< -- Generic Heading Text Goes Here -->
Yes, it's been a while since last we chatted about anything other then the #factoryworker contest or the
BGM Beta Seven
.
You see, I don't need to be the man anymore. Oh, I'm still the guy, but as far as cutting edge goes, I'm a dinosaur at this point. Go take a peek at the last contest results page to get a grasp on what cutting edge really looks like. It's amazing, and I ain't it, and I'm OK with that.
It's allowed me a modicum of freedom, and this post is about what I've used that for.
Learning
Allow me a moment of ego stoking here as back story. Many of you may know, but for those that do not, the
EhTeam
podcast ran a contest not too far back in the hope they could generate a usable logo for some merchandise. Knowing full well the talent I was up against, I submitted. And changed it, and submitted, then asked the Twitter community for ideas, changed it again, and re-re-re-submitted. And I won.
I won.
It still hasn't sunk in. Probably never will. But it did show me that I might have broader horizons than I'd previously thought. And, the
G+ community
was in need of a snazzier logo too...
Output
Matty from HeavyMeta
introduced my 4-second segment on their 50th episode by saying I output, output, output.
And I do. Or, I try to. There's no use in sitting on something I think is garbage. So I put it out there to see what others think and hope for some constructive criticism, trying my damnedest not to fall into the "it's-mine-and-I-ain't-changing-a-goddamn-thing-you-pleebs" mind set. I know I'm shite, but I strive to be better. In all truth, I need to be better. I've nothing else to do.
Content
Really, you're here (I hope) for these. If they take a bit to load or you're on mobile, I apologize.
The Factory
The first version of The Factory looked like this:
Kinda meh really. The shape is fine, and the text is OK, but the "factory" is shit. So future contest judge Brandon took it and did this too it.
Proving to me immediately that I am indeed an amateur. This was the de-facto standard for a bit, and then I re-wired it, gave it some color and character. This is the final version, and the one we use today.
Z's Proxy Factory
I realized that this site needed a visual identity of it's own, and set about starting that off with this;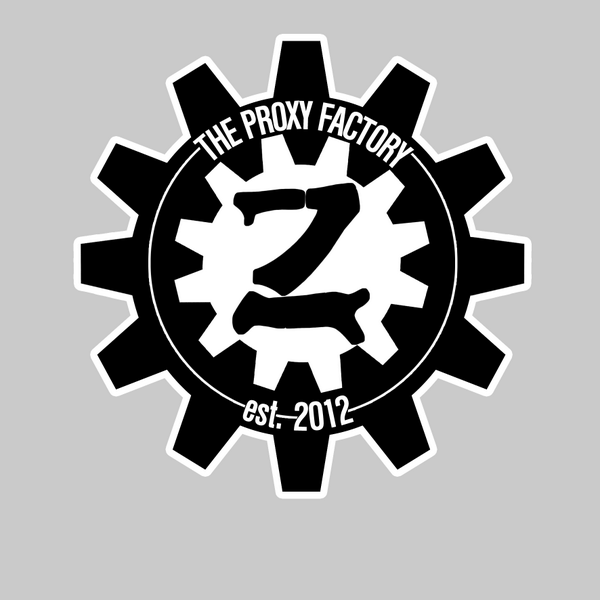 I was playing off the gear from The Factory logo to give some cohesion that the sites are related in some way. As design goes, the first one I always throw away. Why? I don't want to get attached to the first idea. If playing with it causes it to come back to this, that's fine. In all, the final is very similar, and after some community input, this was it: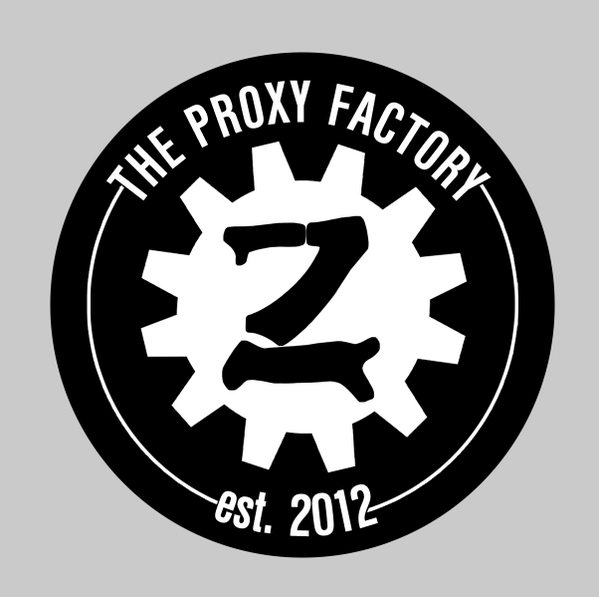 And after texturing it up, this was the final result.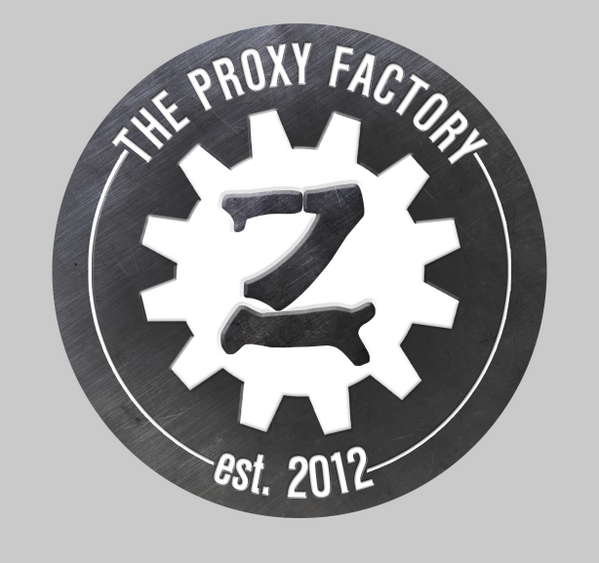 SVU Cast
Black and White, and full color. Mike and I needed something for the cast, so why not use the SVU expansion symbol on a mic?
Animated
These were purely for the love of doing them, and learning how to do them. These are the first animated gifs I've ever put time into, so please be gentle. Neither of the podcast animations were commissioned, but they were mad fun to do!
Heavy Meta 2014 Logo
The Factory
And there you have it. A glimpse into some of the other projects I've been keeping myself busy with.